"My granddaughter, Morgan, is 21 and will graduate from St. Mary's college this semester with honors. Morgan was a premature baby, weighed only 3 pounds when she was born and spent her first months in the hospital. She grew into a strong, healthy little girl, did well in school and loved reading.
What we, her family, didn't realize is that Morgan had to work much harder than her classmates to get the good grades she was getting. When she met with a councilor to apply for college, the councilor discovered that Morgan had a learning disability. She recommended that Morgan see Kathryn Wage at Aspire
Speech and Learning Center.
Ms. Wage tested Morgan and put her on a program called Fast Forward. This program helped Morgan enormously and she was able to get through college without the hours of struggling she spent in high school. We just wish we had thought to have Morgan tested earlier, when she was in grammar school, so she could have gotten the help she needed."
–Sheree Petree
If you would like to post your review, please send to charity.crossley@aspirespeech.com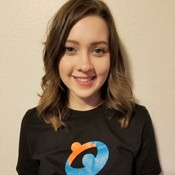 Charity Crossley
Digital Media Coordinator
Academic Program Coordinator